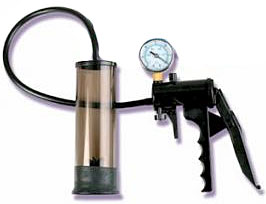 Penis pumps are designed to help men with erectile dysfunction. This is an issue that makes many men unable to fully please their partners, which can lead to a boring relationship and possibly lower self esteem for him.
The vacuum suction cylinder from Penispumpwarehouse.com works by forcing blood into the shaft of the penis, when it naturally takes a lot of effort to do so. If you wear a cock ring in conjunction with a penis pump it will help the erection last longer. It works best if you put the cock ring on before you begin, or when you are semi-erect. Slide the ring right down to the base of the penis, and slip the penis pump onto your penis. Push the pump right down to the base and begin pumping.
Once you achieve an erection, pull the pump off your penis. If you smooth a little bit of lubrication on the sleeve of the penis pump and a little on your penis itself, it will be easier and more comfortable to remove. If you don't use lubrication, it will pull and may be painful to remove the pump. Using a penis pump specific lube will be sure to work well, or you can use a simply water based lube.
All penis pumps are mostly the same. The difference in price comes from the difference materials. The more expensive pumps will have an acrylic cylinder, while the cheaper pumps are usually made from plastic. The acrylic cylinders will last typically last longer. The more expensive pumps will also usually have a pressure gauge to allow you to monitor your progress. These pressure gauges are recommended for beginners so they know how much pressure is requires for their specific erection.
Penis pumps can be a man suffering from ED's very best friend! Talk to your doctor before using a penis pump, and see if it is right for you! Enjoy sex again, and please your partner the way you used to!